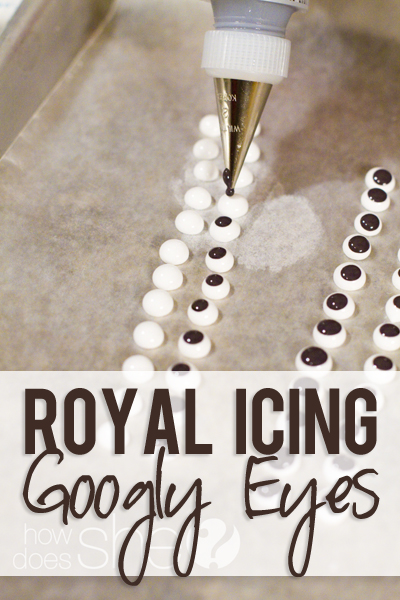 How to Make Royal Icing Googly Eyes
Remember these yummy mummies? 😉 I'm pretty sure my toddler has been reminding me to make these for the last month. These Halloween Cookie Suckers are a huge hit in our house and neighborhood!
We decided to make homemade googly eyes for these adorable treats! They are super easy to make and they last forever! Kids of every age will have a blast making these crazy cute little eyeballs.
How to Make Royal Icing Googly Eyes
Royal Icing:
I
love
royal icing. It is so much fun to work with. There are lots of different recipes out there.
This
recipe by Bridget from
Bake at 350
is by far my favorite! It is simple and doesn't have any strange ingredients.
Read through her recipe, she explains everything much better than I could (plus she has great pictures)! Follow her instructions and recipe for the "stiff" royal icing. You will need to create "flooding" icing, by thinning it, for these fabulous googly eyes.
"Flooding" Icing:
Once you have created the "stiff" royal icing, add water to it one teaspoon at a time. Mix on low, until it is the consistency of syrup. Dip a spoon into the icing, lift it and let ribbons of icing drop back into the bowl, and count how many seconds it takes to make that surface flat again. If the surface is smooth between 5-10 seconds, then your icing is ready to use. If it takes longer than about 10 seconds, the icing is too thick. Slowly add more water. If the surface smooths over in less than 5-10 seconds, it is too runny. Mix your icing longer or slowly add more powdered sugar to thicken it. You may have noticed the icing was thin before you beat it in the original recipe. It is important not to skip that step. It makes all the difference in the texture.
Summary
Recipe Name
Published On
Preparation Time
Cook Time
Total Time
Average Rating





Based on 15 Review(s)