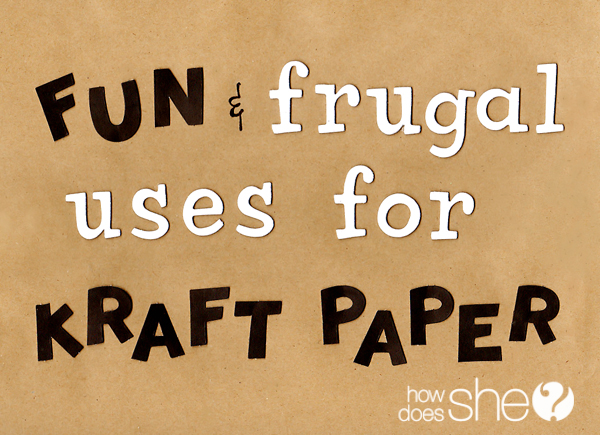 Oh kraft paper, how I love thee!  Let me count the ways.  From kids play mats and learning aids, to photography backgrounds, treat bags, and packaging… is there no end to your versatility!?  Let's have a look…
#1.  Play Mats – Play mats do double duty as giant coloring pages and play surfaces, and two uses are definitely better than one when it comes to saving money.  When my son was small, he was really into Thomas the Tank Engine but the train tables and track sets cost a pretty penny.   So we put together a makeshift setting for him (similar to the photo below) and he was thrilled.  Mission accomplished!
 #2.  Learning Aids – Kids learn best through games and playtime – when they don't even realize they are learning.  This learning aid teaches kids how to set the table, training little helpers just in time for the holidays!
Kids participate eagerly with the help of a visual aid to guide them.
#3.  Photography Backgrounds – Writing a message on kraft paper is a simple way to make an announcement, share a recipe, celebrate a birthday, and more!  Here are two simple examples:
#4.  Treat & Gift Bags –  Deliver gift cards and other treats in custom made kraft paper gift bags.
How To:
Step 1.  Cut a length of paper (examples are 18 inches long by 8 inches wide.)
Step 2.  Fold paper in half, cut along fold 1/2 inch in from both sides.  In only one direction up from the fold, cut off 1/2 inch wide strips to the top and discard strips.  Fold the uncut sides (below the fold) in towards center.  Let them unfold and stand straight up.
Step 3.  Fold the top and bottom half together.  Place double stick tape on 1/2 inch folded side strips and press them down to the backside of the bag to seal shut.
Gather and cinch with a ribbon or fold the open top, using a hole punch to make holes for threading ribbon.  Voila!
 #5.  Gift Wrap – Of Course!  Brown paper packages are simple and timeless.  Give them extra love when you embellish the plain paper with this tip from Heather.
A 15 ft. roll of kraft paper is only $1 at the dollar store and HUGE rolls can be purchased online for a bargain.  With so much fun to be had, stock up and get "krafty"!