Is it just me, or is August flying by? Maybe it is the back to school preparations, or just trying to squeeze every last drop out of what is left of summer, but this month has been a bit of a blur for me. Are you finding that, too? Then I am here to help! I am rounding up a few of the fabulous ideas that we have been featuring lately, that just might have slipped past you 🙂 Here is a look at the "goings on" at HowDoesShe this month!
Do you pack lunch for little "someones"? If so, you will love what Nicolette does with these little "clips". This inspired me BIG TIME and my little munchkins will be so excited to open their lunch sacks every day 🙂 For even more inspiration, check out THIS POST of Over 30 Back To School Ideas!
We love zucchini, yes we do! We love zucchini, how 'bout you?!
Carlee worked some real magic with these zucchini and squash! This is a recipe you will drool over. Take my word for it! Oh, and if you want even more ideas to use up those garden zucchini, check THIS amazing Ooey-gooey delish dish from Alysha.
Does this fridge look familiar? Yeah, only mine looks worse! But, a makeover is imminent, thanks to a fun and creative fridge makeover from Alysha that will have you thinking "WHY have I not thought of this before?".  Get out the paint and get excited! Check it out!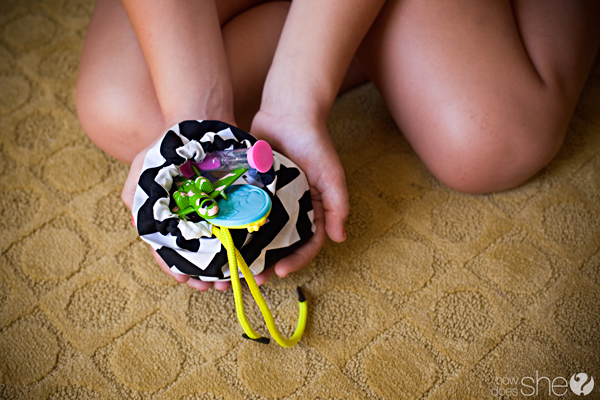 Who knew that a few dollar store items in a colorful bag could provide hours and hours of insane fun and creativity? Cristi knew! This post will have you running to the local dollar store and your kids' imaginations running wild!
5. There Are WHAT In Those Apples?
Apples are always sweet treats, especially when it is "back to school" time! But these little apples are even sweeter because of the special surprise that is inside…you'll love this! And if sweet apples is what you love, you will also love this recipe for the most delicious CARAMEL APPLES ever!
Isn't it great to have so much inspiration at your fingertips? We love to share what really works for us, in the hopes that you'll find your own lives uplifted and inspired in the process! Thank you for stopping by, checking us out, and your sweet and amazing comments. We sure love you!