If you were to come over to my home and see my kitchen, most likely this fridge would be the first thing to greet you.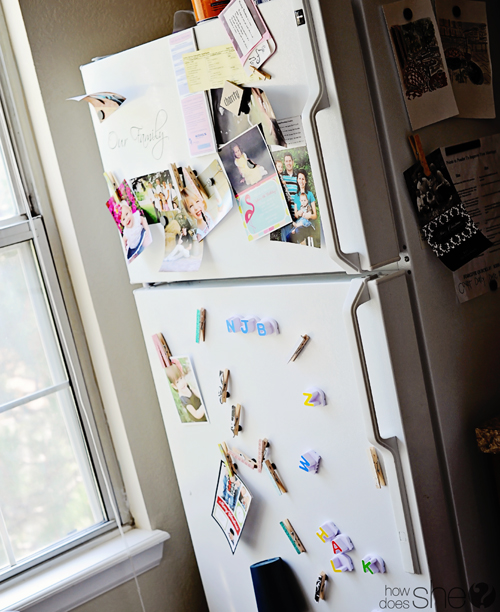 Not necessarily anything wrong with it. A typical messy, chaotic fridge. (Ok, so maybe this messy isn't typical?) But it doesn't exactly convey the feeling I want to create in my home.
I decided it could use a little TLC. Did you know you can decorate your fridge? Yep. Here's how.
Step 1: Find frames.
Any frames will do. I just hit up my local Goodwill and picked up a few of these gems.
They were only $1-$2 a piece. Score!
Hint: The lighter they are, the easier they will be to stick to your fridge. I found that the light metal ones work best.
Step 2: Prime.
You don't necessarily need to do this, I've painted frames without primer. However, I've found you end up using less paint in the end because the paint adheres and covers better with the primer.
Step 3: Paint.
Pick out some fun colors and go to work. I decided my kitchen could use a little color, so I went with my favorite color these days, aqua.
Spray paint ended up being quicker for me, but you could use the cans as well.
Let the paint dry completely before going to the next step.
 I like distressing anything and everything, so I took a little sandpaper to them.
Step 4: Attach magnets.
You can use any magnets you want for this part. I used this magnet tape I found at Home Depot for $3.
 I decided to reinforce it by adding some hot glue to the tape side.
 For the larger frames, I added larger round magnets in the corners because the magnet tape wasn't quite strong enough to hold up the frame on its own.
For a couple of mine I decided to add a little chicken wire to add some texture and charm.
First I measured and cut the wire the best I could.
My frame still had those tab thingy's that I just pulled down to hold the wire in place. I used a little hot glue in a few places as well.
 Arrange your frames on your fridge and ta-da!
Use the frames to help organize whatever you feel like.
Frame your children's prized artwork.
Or organize alphabet magnets.
Hang photos, wedding announcements, invitations…
Or hang the recipe you've been planning on making, or even frame a calendar.
So many possibilities! And so easy to change it up if you feel the need.
Ah. Much better. What do you think?
The best part? This entire project cost me less than $20. Hot diggity dog!