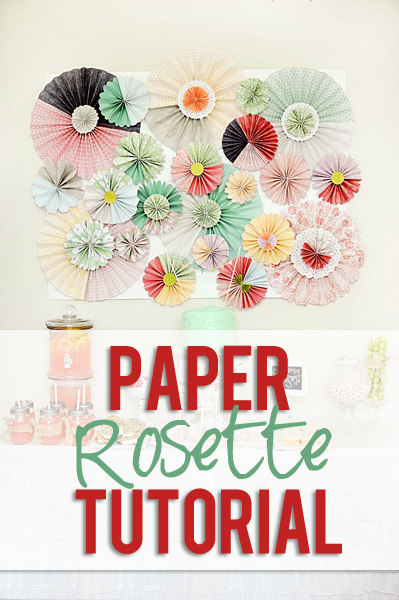 I've received so many emails asking me how I made the backdrop for my little girl's shabby chic 3rd birthday party, I decided to throw a quick tutorial together to show you how.
It's so simple, after I show you you're going to look at me like, "that's it?" 🙂
Supplies needed:
Coordinating paper (Cardstock is harder to fold, so I just used regular paper)
Double-sided tape
Scissors
Hot glue gun
Step 1. Take your coordinating paper, and fold it accordian style.
Make sure you do it length-wise. Here's what it should look like when you're done. Don't worry if it's not perfect, this project is pretty forgiving. 🙂
Step 2: Fold the paper in half.
Step 3: Put some tape on along the inside of the fold, and press the two sides together.
This is the point where, if you want rounded edges, just cute the top in a semi-circle.
Your paper with look like a fan when you open it back up.
Do the same thing with your other 3 papers. You should have 4 fans altogether.
Feel free to make them all the same pattern or different.
Step 4: Tape all 4 fans together to create one large rosette.
MINI ROSETTES- You will need 1 1/2 pieces of paper. It is just the same as the above tutorial, only you start with half the size of paper.
Step 1: Take a piece of paper and cut it in half.
Step 2: Fold into an accordian.
Step 3: Fold paper in half. Tape together.
Step 4: Tape all 3 fans together to create a tiny rosette.
LARGE ROSETTE – You will need 6 pieces of paper.
Step 1: Fold accordian style.
Step 2: Instead of folding the paper in half, link full-size papers (using the double sided tape) to one another to create one big long chain.
Tape all 6 papers together.
Step 3: Connect both ends together, to create a large circle.
Step 4: Gently press the circle towards the center, your papers will "fan out".
And voila!
I like to then glue a smaller rosette, or a paper circle on top of the large one using a glue gun. This will hold the large rosette in place.
This is where you can really get creative with any embellishments you want to make.
I then glued all of the rosettes onto a large thick poster board.
When I was cleaning up for my daughter's birthday party, I loved the backdrop so much I had to find another place for it.
So now it is wall art in her bedroom. 🙂 What do you think?
Have fun creating! And if you don't have time to DIY it, check out these great ready-made backdrops.