Looking for a way to elevate those canned corn Thanksgiving recipes?
This is an absolute favorite among my family and extended family and you'd never know it was made from a very humble ingredient–canned corn. Would you believe me if I told you that our Thanksgiving is not considered a true Thanksgiving without this amazing side dish? My whole family will briefly visit food heaven dreams when they think of this dish and the salivating starts just at the mention of this decadent cheesiness. This dish was passed down from my grandparents and now I want to share it with you!
Elevate Those Canned Corn Thanksgiving Recipes with this Puffed Corn Casserole
Only eight simple and easy ingredients make up this traditional dish.
Puffed canned corn (hominy)
Cheese (always use cheddar)
Flour
Sour cream
Butter
Green chilis
Milk
Green onions (for garnish)
Let's start with the cheese sauce that is super simple and easy to make.
Melt the butter and add in the flour together in a saucepan.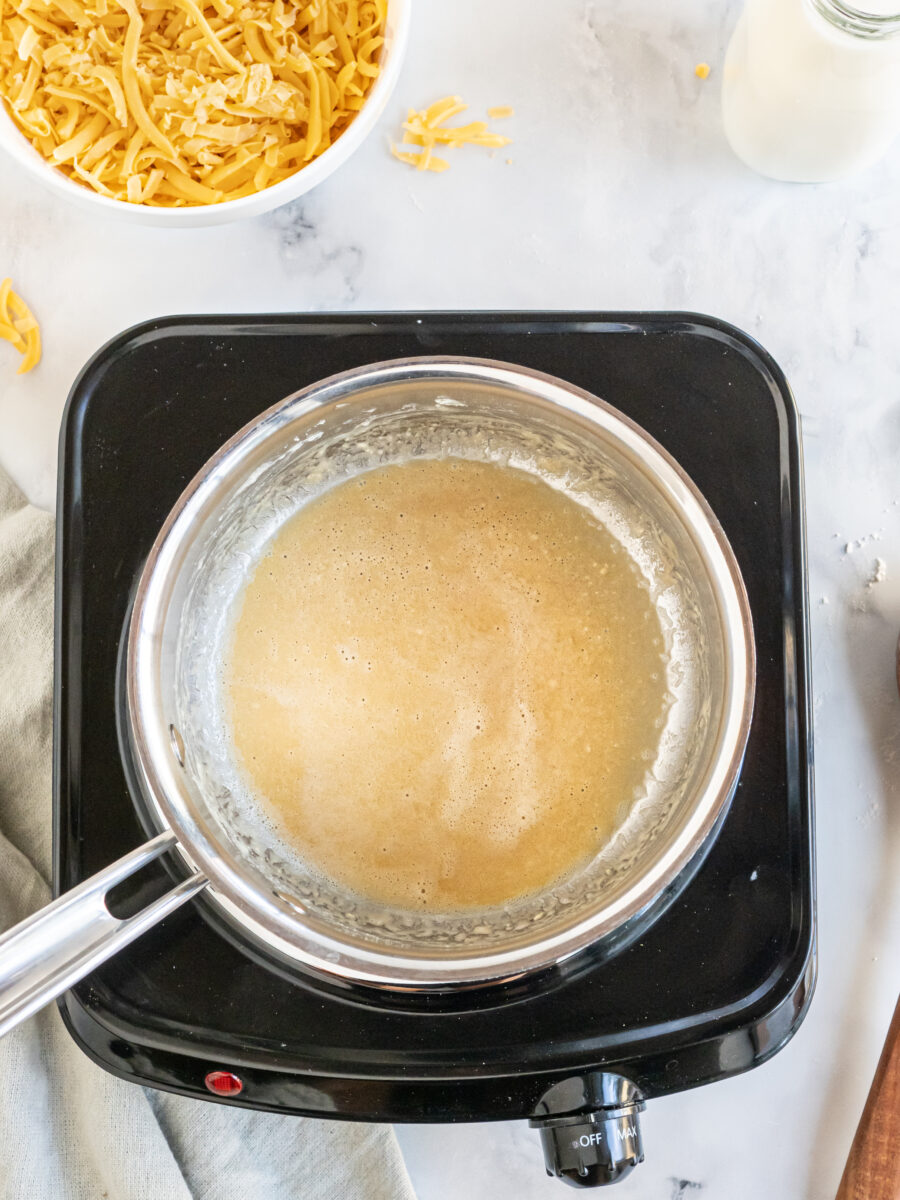 Keep stirring it on low heat until it gets to a light brown color.
Time to add in the grated cheese and the milk!
Tip: Be sure to grate the cheese yourself. Bagged grated cheese is coated with a start and does not work well for making cheese sauce.
Look at how beautiful that cheese sauce is!
Canned corn Thanksgiving recipes can be gourmet.
Add and mix the cheese sauce, sour cream, green chilis and puffed corn all together.
So creamy!
Place it into your favorite cast iron skillet and pop it into the oven at 325 degrees for 35-40 minutes.
Once it is done baking, spread the extra grated cheese evenly on top and place back into the oven to broil at 400 degrees for 3 minutes.
This is my happy place!
Time to serve that up and go to cheesy heaven.
Now please excuse me while I go stuff my face after finishing photographing this plate.
Yield: 8
Thanksgiving Puffed Corn Casserole
Cheesy & Green Chili Puffed Corn Casserole
Ingredients
Cheese sauce
2 small cans of puffed corn (Hominy) drained well
1 (8oz) carton sour cream
1 or 2 small cans of chopped green chilis
½ cup grated cheddar cheese
*Optional: two chopped green onions for garnish. *
1 tablespoon butter
1 tablespoon flour
1/2 cup whole milk
1 cup grated cheddar cheese
Instructions
Cheese sauce directions:
Melt butter in a saucepan. Once melted add in the flour mix
and stir together on medium low heat until browned slightly. Add in the milk
and stir. Once milk is warm add in the cheese. Continue to stir until melted
and completely smooth. This should make 1 cup of cheese sauce.

Directions:
Toss all ingredients (except the extra ½ cup grated cheese)
and cheese sauce together until well combined. Place into your preferred baking
dish and bake at 325 for 35-40 minutes. Remove from oven and sprinkle the extra
grated cheese on top. Adjust the heat of the oven to broil. Return the dish
into the oven for 2-3 minutes. Remove add on the garnish and serve!