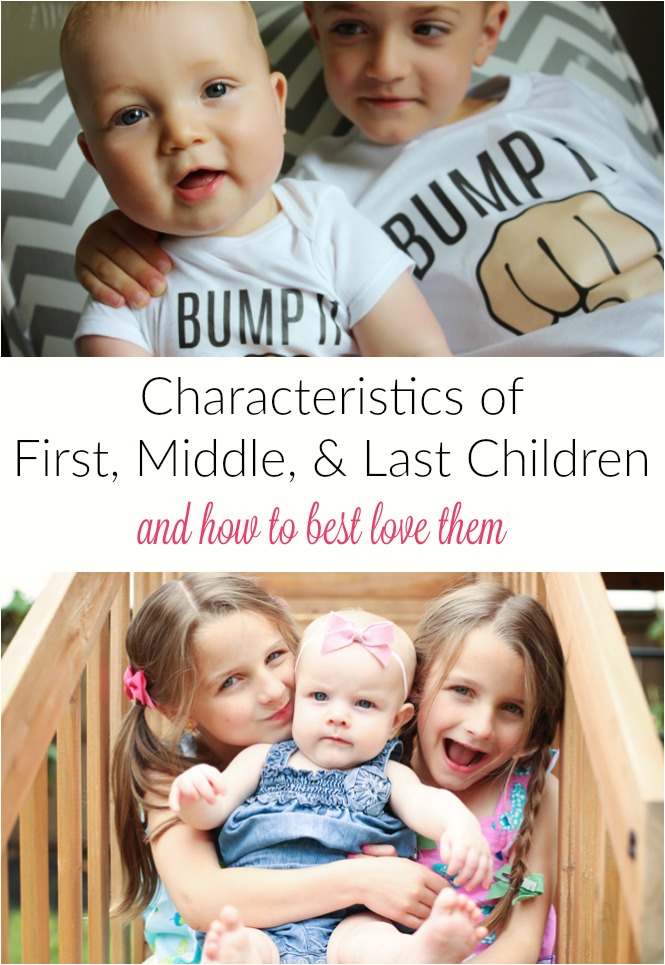 What part does birth order play in determining the personality and characteristics of our children? The quandary of parenting starts with that first tiny cry and doesn't end until…well, it doesn't end! I've often marveled about each of my four children and how completely different they are. Are their personalities bred deep inside them or does birth order have something to do with the way they act and react? Does it make a difference to be first, middle, or last children?
Birth order personality plays a bigger part in behavior than we think, and psychology has a lot of evidence to back that up. Here are some common characteristics of first, middle, and last children and a few tips on how to best love them.
Birth Order and Personality Characteristics
---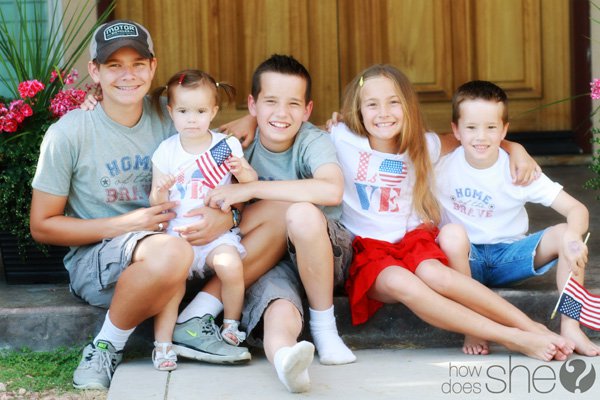 Characteristics of Firstborn Children:
Reliable
Conscientious
Structured
Cautious
Controlling (sometimes seen as bossy)
Achievers
Want to excel at everything
Bask in parent's attention
As a first child myself, I can attest to how accurately most of these characteristics apply to me. Firstborn children capture all of their parent's initial attention and according to the birth order effect, get as much as 3,000 more quality hours spent with mom and dad between the ages 4 and 13 than their next sibling.
Firstborn children often act like mini-adults and win the hearts of their elders by trying to please them. "Oh look, she is reading already!" "Stand up here and recite that poem you memorized." "You'll be amazed at how well he plays soccer already!" New parents want to give the first child every opportunity available. Consequently, they get to try all kids of activities that maybe the second, third, or fourth children don't get to because mom and dad got too tired or too busy.
The first born child is responsible and learns at an early age to take care of younger siblings and perform tasks that will help mom and dad out. This responsibility makes them want to be the best at everything they do.
How To Best Love Them
Parents often have high standards and high expectations for their firstborn son or daughter. Sometimes this sort of pressure can make them act out. Sometimes you may butt heads with your firstborn when she wants to make her own decision. Here are some tips to help love and parent a firstborn:
Your firstborn is not a miniature YOU reincarnated. Allow your firstborn to make decisions for him or herself. Maybe you want to sign your son up for football because you played football, but he really wants to pursue karate. Give him options and let him explore decisions on his own.
Try not to be too critical. Your already perfectionist firstborn will struggle with your nagging and nit-picking.
Focus on your child, not necessarily his or her skills. Yes little Janie might have an impeccable backhand, or little Johnny just may be a violin prodigy, but spotlighting their straight As and other skills sends the message that that's what your focus is on. Let them, and the people you brag to about them, see that you love them as the individuals they are rather than what they do.
*Fun facts about firstborns: 100% of astronauts who've gone into space were eldest children. Famous firstborns include Oprah Winfrey, Walter Cronkite, and Winston Churchill. The top careers for firstborns include government, engineering, and science. (source)
Characteristics of Middle Children
People-pleasers
Rebellious tendencies
Thrive on friendship
Peacemakers
Good friends
Difficult to categorize, middle children often feel a little disjointed or out of place. They don't get the attention and responsibility that the first child gets, and they don't really get the devotion that the baby gets either. Because of this, they may try to blaze their own trail by either acting out, seeking a large social circle outside of the family or trying to please their parents and other adults.
One of my middle children is the peacemaker of the family. He is sandwiched between an older sister and a younger sister and often acts as their mediator. He is always the first one to give up a toy in order to make one of his siblings happy. Middle children tend to be more level headed and unbiased than their other siblings.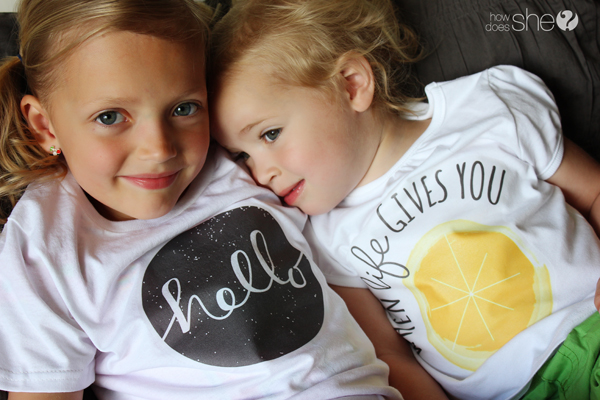 How To Best Love Them
Make special time for them. Because they often feel overlooked, make it a point to schedule one-on-one time with your middle child often. Connect with them on a daily basis and reassure him that you are aware of his needs and that you are there for him.
Make a big deal of her achievements. It's easy to praise the firstborn and esteem the baby, but make sure to make a big deal of your middle child's accomplishments as well. Make comments like, "You are such an important part of our family!" and "Thank you for making our home a happy place."
Encourage differences. Don't expect a little sister to be just like her big sister. Celebrate each child's differences and what they contribute to the family. Avoid statements like, "Why can't you be more like your big sister in school?"
*Fun facts about middle children: Middle children save more money than their older and younger siblings and are more likely to be asked for money from a sibling. Barbara Walters, John F. Kennedy, and Martin Luther King Jr. were all middle children. The top careers for middle children include education, public service, law enforcement, and caregiving. (source)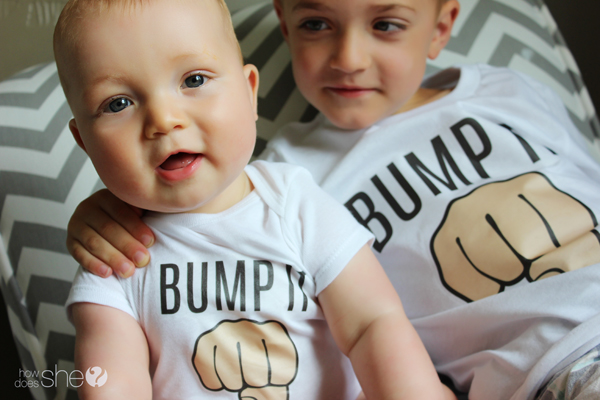 Characteristics of Youngest Children
Fun-loving
Outgoing
Manipulative
Attention-seeker
Self-centered
Uncomplicated
Although some of these traits seem to contradict themselves, I can see how the "babies of the family" that I've personally known display each characteristic. Let me tell you something brutally unfair. When I was growing up the first child, my parents were pretty tough on me. I had all the strict rules and they didn't budge an inch. 12 years later when my baby brother was born, I watched as all rules pretty much went out the window. Either they were just too tired at that point, or they realized that kids are pretty resilient, but my parents became really relaxed with their last born.
Youngest children usually receive the least discipline, fewest responsibilities, and the biggest spoils. They learn that being funny and adorable gets them what they want and they are usually the source of fun and laughter.
How To Love Them Best
Be Fair. It's easy to spoil the youngest because well, they are the last one! But giving them extra helpings of dessert or unwarranted allowance is not only blatantly unfair but will create discord among your other children. On the other hand, if your oldest gets to have regular playdates and your youngest things he should have them as well, it's best to be fair.
Hold her accountable for her actions. It's okay to ease up a bit on your rigidity, but you still need to hold your last born accountable for her actions. Don't let her skip out on chores that the older ones are doing just because it's easier to let them slide.
Don't underestimate what they can do. Because she's the baby of the family, everyone runs to pick her up when she falls. Even as older children, I've heard parents refer to their youngest as "the baby" and a lot of times, underestimate what they can do. Think back to your oldest—you were pushing her to potty train and tie her shoes at two years old. Give your youngest the same opportunity to grow as your other children.
*Fun facts about youngest children: Youngest children are likely to excel in careers in design, art, sales, and writing. Mark Twain, Stephen Colbert, and Prince Harry are all last born children. (source)
So what do you think? Does this ring true for your oldest, middle, or youngest children? Although each of my children come with unique personalities, I can definitely relate to the characteristics behind birth order.