*** This post is sponsored by Kohl's and ShopStyle. All opinions are our own.***
I have a few friends I'm convinced are really unicorns. Every time I see them, they're dressed in these beautiful, coordinating outfits. They're rocking edgy accessories alongside their perfectly coiffed hair. They may even have a bag other than a diaper bag in tow. I'm a little bit mystified by these beautiful women. HOW in the world do these ladies accomplish such a feat? For me, I usually have my work out clothes (sans workout) still on by mid afternoon, and if I can steal a quick shower by pick up at 3 pm, I'm truly living the life.
One of the best solutions/creations ever is the concept of athleisure. I could kiss the face of the genius woman who invented this genre of clothing. I'm sure many of you share my fond feelings of this comfy, yet versatile option. More often than not, I run into a fellow woman who shares this affinity for a solid pair of stretchy leggings or even a patterned jogger and we throw virtual fist bumps with just our eyes.
We know we can take on the world thanks to these blessed stretchy pants (And by the way, I found THE most awesome pair below!)
In all seriousness, I love to find active styles to live and play in at a one stop shop – Kohl's. Kohl's has a wide assortment of activewear and athleisure that will keep you properly outfitted for any thing that might come your way. They also have active styles for those cute little rugrats that live with you (You know, the kids…). The prices are ALWAYS on point. I've honestly found some of the best deals (on the hottest brands) around perusing their virtual shelves and they often have fantastic promos and coupon codes. For example, currently (and soon) you can take advantage of one of these offers.
Take 15% off General Public Offer. 7/16-7/25 with code TAKE15
Friends & Family Sale! Take 20% off. 7/29-8/1 with code SHOPFAMILY
Here are a few of our favorite pieces, as well as some ideas to take your athleisure to a new level.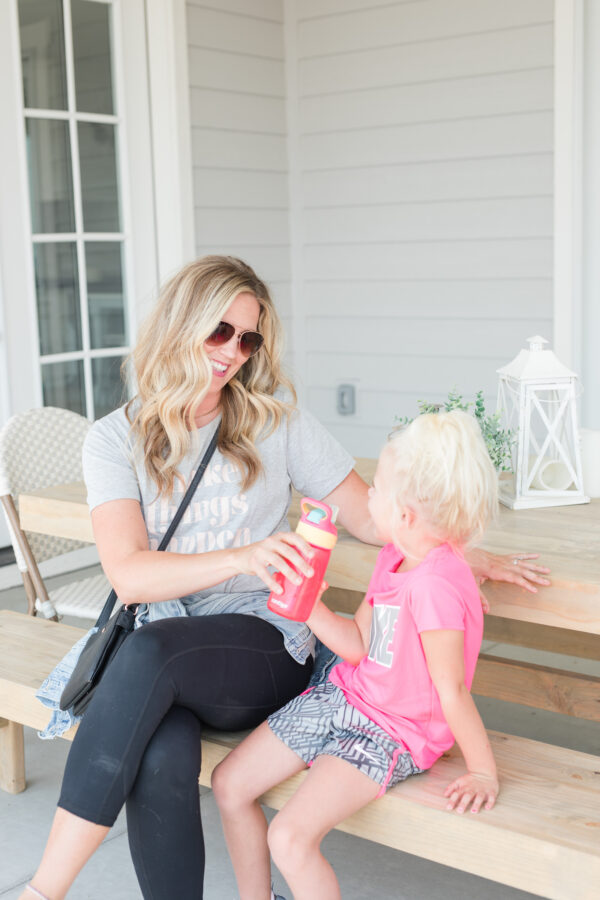 First up, because this cute face deserves to be first, the most darling athletic set for those back to school kiddos.
Can you even with this darling Nike set? My girl is the next US Women's Soccer team member in her mind, and she has to dress the part!
This cute little number is perfect for the hot temperatures and an active little one. Kohl's has TONS of athletic sets similar to this to choose from for all your kids!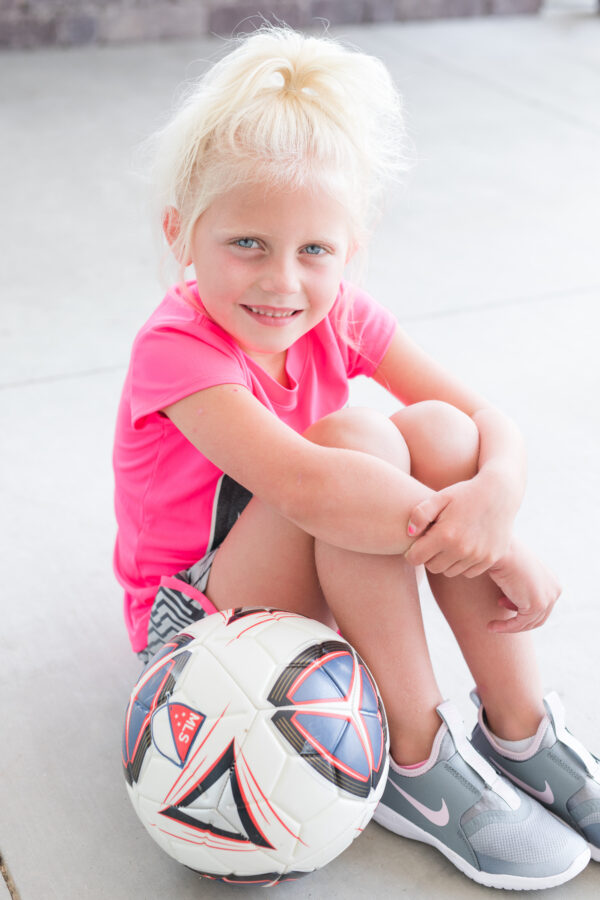 My all time favorite shoes for kids, hands down, are these Nike Flex runners. They're light weight, and pair well with just about anything! The best part? They're so easy to get on and off. When you're a kid on the go, quick shoes are essential. Plus, they come in lots of fun colors and styles HERE!
I love the grey and pink combo!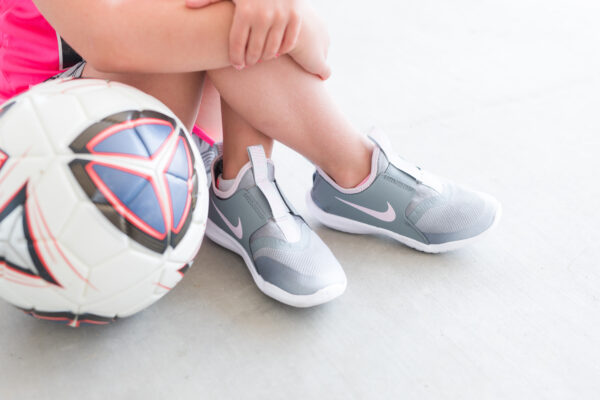 Now let's talk about a few ways to dress up YOUR athleisure.
Every wardrobe needs a solid, quality pair of black leggings. These Gaiam capri leggings are just that!
They compress, tuck, and aren't sheer at all. I feel like I can move freely and not worry! They also wash well.
I felt they run a tick small. I am a size 4/6 and the medium fit well!

A graphic tee pulls the look together!
Plus, isn't this one super motivating? MAKE THINGS HAPPEN!
I paired it with a denim jacket around the waist.
This serves two functions. One, my bum is covered effectively. Two, I can carry this outfit into Fall when layers are essential.
ACCESSORIZE!
There's no better way to take an "athletic" outfit up a notch, than with accessories. I mean, when you think about it, accessories are money well spent. You can wear them over and over with a variety of outfits and you never grow out of them!


I grabbed this cute crossbody purse. Not only is it a dream when it comes to quality, but it is also the perfect size for when you're on the go. I can fit all the essentials and even a diaper and small wipe package in it! I love that isn't big and bulky. It's a classic that will last for years!
I also need to give a big shoutout to this gorgeous cuff bracelet. I'll be honest, I'm not a huge jewelry lover. I like simple pieces that aren't too "loud". I prefer delicate pieces that stand on their own. This bracelet was a total winner. Unique, but classic.
I also had to snag these cute sunglasses.
To, you know, hide the inevitable dark circles.
Let's talk shoes.

I absolutely fell in LOVE with these Nike Legend Cross Trainers.
Can you EVEN with that touch of leopard?
They've gone in and out of stock this month, but they also come in a ton of other fun colors and some prints!
They're CRAZY comfortable too!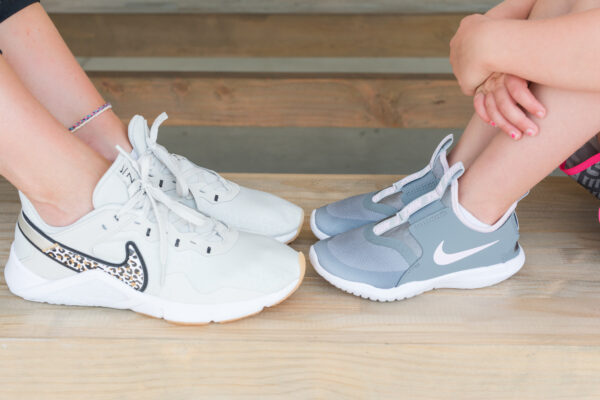 I also snagged this oversized, but short sleeve hoodie.
I feel like it's the perfect transition top from Summer to Fall.
Plus, I'm not going to lie, it's crazy soft inside. Butter soft.
Great finds right?
I love athleisure, but it's nice to be able to fancy it up just a bit with a few fun touches.
Plus, Kohl's has such fun picks for me AND the kiddos!
It's one stop shopping for Summer, Back to School and Fall.