*We are proud to partner with Etsy and ShopStyle on this sponsored post.  All the opinions are our own because we really do adore Etsy!
Summer is my favorite holiday.
Yes, holiday.
I call the whole few months of Summer a holiday because it's non stop fun with my family (with a lot of work mixed in there too!). To me, it feels like the brightest, most carefree time of the year and we celebrate every day! Whether it be the long summer nights where we chase lightning bugs till WAY past our bedtime, or sipping lemonade and eating otter pops poolside each day, we like to maximize our adventures!
One way we love to welcome Summer is by sprucing up our house. I still have childhood memories of my mom changing out her decor when Summer rolled around. It was one of the first signs of excitement. Now, my kids know, when momma changes out the front door wreath, it's time to get ready!
There are lots of easy ways to welcome Summer around your home, and I thought I'd share a few with you. The greatest source EVER for unique home decor (and jewelry, and clothing, and gifts, and just about everything handmade…) is Etsy. I could spend HOURS just meandering around the site.
Actually, who am I kidding, I DO spend hours meandering around the site!!
Anyone else?
Here are a things I found to help spruce things up for Summer!
A new doormat After a long winter, and many little feet coming in and out, a door mat is a simple way to make a first impression. The first thing a guest might notice when coming to your door is your door mat. There is no better way to make someone feel welcome before they even step foot inside! There are so many great ones found on Etsy – and some are SO hilarious. I mean, this one on my doorstep? Could you just die? With 5 kids in our house, this only seemed appropriate! I also adore this one for all my Joanna Gaines fans.

If you prefer something a little more classic, get one personalized with your name on it!

A  new wreath for your front doorAgain, your door is the first thing your guests are going to see! Why not catch their eye with a new Summer wreath!? If you prefer a more demure look, there are lots of options such as the ones I grabbed for my front door! I love a classic green wreath! I also love these gorgeous magnolia leaf wreaths! What style is your favorite? More classic or bright and fun?

3. Refresh your entry way statement piece


We all have that ONE wall piece that packs a mean punch on our wall. Check out this one in my entry way! This huge clock is re-purposed from old pallets, How unique is that? I love the rustic look against the neutral wall. EVERYONE comments about it, and yes it totally works! Sometimes, refreshing those entry way pieces can really make a world of difference!
4. Add a family motto or quote in your house
I like to think that my kids will see inspirational quotes around our house and remember them forever. The world is a tough place and I think it's important to teach truths in the home. Whether that be a favorite scripture, like the one I picked, or an motivational quote, these are meaningful and purposeful pieces of decor. Each summer, we pick a theme for the next school year and I love to hang it in my home and have my kids memorize it. I hope those visual representations of inspiration will stick in their little hearts – and mine!
Just like IN your house, the easiest (and often least expensive) ways to spruce things up and celebrate the changing seasons, is with PILLOWS. I love how different a space can look just by changing the print or color of pillows. These bright blue pillows, with their energetic design make me feel so happy for Summer!
6. Add a little simple outdoor decor
You don't have to blow the budget and get a whole new patio set each year! No doubt you'll be spending more time outdoors though, so why not add a little personal touch? Cut some wildflowers and place them in a vase on a patio table. String a few lights. Garden flags are another great way to make your outdoor space "yours". They're subtle, but beautiful! I especially love this one I grabbed for my outdoor area.

There are TONS of simple ways to get your home spruced up for Summer, and EVERY season! Etsy has literally everything under the sun. The items there are going to be one of a kind! Your house will look like YOURS and not like everyone else's on the block. What ways are YOU getting your home Summer ready? Do you have a favorite Etsy shop?
Be sure to leave a comment and let me in on your favorite shop so I can check it out!
Happy decorating and enjoy your Summer!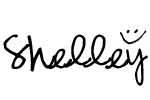 SaveSave