Thank you, thank you for all of your wonderful ideas!
These are our TOP 12 (in no particular order)
1. Free downloadable meal planner
submitted by: Kim @ 733
2. Upcycled Wreath
submitted by: Vicky @ the city cradle
3.  Dolly hair pretties
submitted by: Christine @ from an igloo
4. Twix bar fake-out recipe
submitted by: Maggie @ smashed peas and carrots
5.  Spring Windmills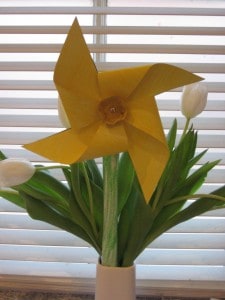 submitted by: [email protected]Nurture Store
6. Gift Box to Canvas Art
submitted by: Summer at Sumo's Sweet Stuff
7.  Holiday Picture Holder
submitted by: Gillian @ All the small things
8. Idea to assist you work toward your goals
sumitted by : Julie @ Practically Spent
9. DIY art cable
submitted by: Jesse @ Good Girls Gone Glad
10. Heart Cake Tutorial
submitted by: Amanda @ i am baker
11. Baby Socks Tutorial
submitted by: Sarah @ a plethora of thoughts
12. DIY Baby Mobile
submitted by: Jill @ Women Who Do It All
Please keep these GREAT IDEAS and TIPS coming!
We love learning from all of your talent!
To submit ideas, click on SUBMIT under our header on the home page.  We feature our favorites at the end of every month – so if it is a holiday idea, get it in the month before you want it featured!  Thanks to all of you who submitted!