***Updated.  This giveaway has ended.  Congratulations to  Mitzi who said, "Visited the Twinery site and love all the ideas. I would like to see the Laundry room as a kit."  Thanks Twinery for the aMAZing giveaway and for being a HowDoesShe sponsor!  Also, thanks to all of your for your feedback on kits! 
I am so excited about this giveaway!
worth $98.00!
from…
There are so many fun ideas out in blogland that use twine, I love them!  Here are a few:
Just yesterday Shelley posted the cutest rocket mobil using twine
Giver's Log (favorite) uses twine all the time to package her creative gifts or to use in these fun garland ideas.
Twine would be perfect to attach all your free printables from us!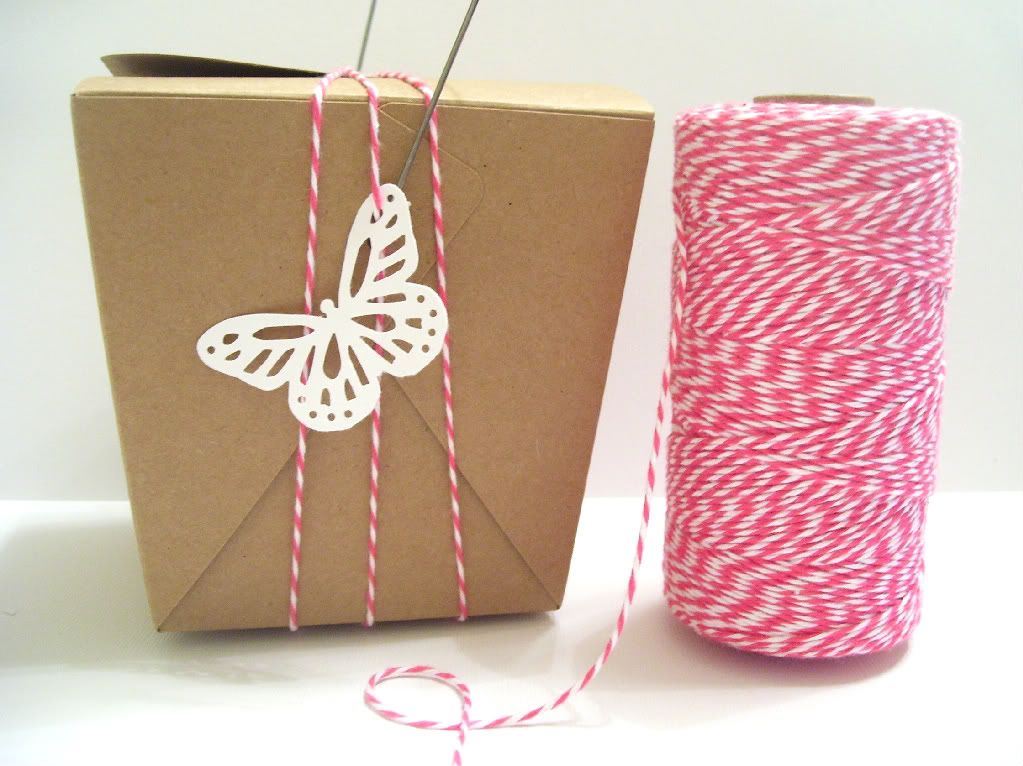 The Twinery has a bunch of ideas (and FREE PRINTABLES that match their twine colors!) on their blog about what you can use twine for like…
cardmaking
product packaging
and even bracelets!
Now that your head is spinning with ideas, get excited because…
The Twinery generously offered to give one of you their LOVER'S PACK…worth $98.00!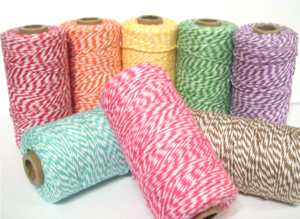 "Whether you're gift wrapping, crafting or giving baked goods to a dear friend, our baker's twine adds a fresh, yet nostalgic look to any project at hand!
The Twinery's Twine Facts:
– 240 yards on each spool
– 100% plush cotton twine
– Wound on cardboard spools
– Eco-friendly
– 4 ply
– Spool size: approximately 4″ x 2″
– Proudly made in the USA
You will get 8 spools of twine – one spool of each color – which contains about 1920 yard of twine total."
AND that's not all!
The Twinery is also offering HowDoesShe readers a discount for
25% off your purchase!
(use code HOWDOESSHE at checkout through August 22)
Time to stock up!  The only problem will be what colors to choose…
cappuccino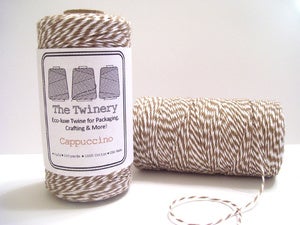 lemondrop
maraschino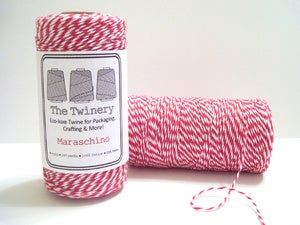 or check out their other choices at the twinery.com!
How to enter?
I'm making it easy!  Just 2 simple ways to enter:
1. Head to the Twinery's blog and let them know you stopped by.
2. We are listening to you!  We have had a ton of interest in turning our HowDoesShe crafts into kits so you can make them easily.  If we do this, which ones would you love to have conveniently shipped to you?
Don't forget to leave a separate comment for #1 and #2!
Giveaway will end next SaturdayAugust 20, and winner will be announced Saturday August 21st.