Disclosure: This post may contain affiliate links. This means, we may receive a small commission if you choose to purchase something from a link we post. Don't worry, it won't cost you anything. This small percentage just helps us keep the power on and the Diet Coke stocked. We appreciate your support!
Hi! I'm Emilie Daly from Emilie Daly Designs. I'm a mom first and I also love, love, LOVE to dream big. You too? Great! We are already BFFs. New friends rock!
My kids started school recently. We had the good fortune to go on a super fun vacation that ended 3 days before the beginning of school. While I LOVE when things are organized, I very rarely find myself in that situation. So I really shouldn't have been that surprised by my little discovery.
I had gone to the store and purchased the essentials, or so I thought, from their supply lists. As I was looking over them the night before school started I realized I'd gotten everything my daughter needed to put in her pencil pouch, but I'd forgotten the pencil pouch!!!
ARGH!
Thankfully, this is where my big dreaming came in really handy. Let me explain. No, there is too much to explain. Let me sum up (bonus points if you can name that movie). 3 1/2 years ago, when I turned 30, I decided that every new decade I was going to have a scare-me-spitless-goal that would, in all likelihood, take me 10 years to achieve, if I even achieved it at all. This decade's goal was to become a fabric designer. I had no prior experience in this field other than I knew I loved fabric. Like really loved it. That's it. But I was determined to work hard and give it everything I had.
In October of 2012, after a LOT of hard work, that dream came true!
Modern Yardage, an innovative, new, USA based, digital fabric manufacturer approached me. They explained they were only going to print designer fabric on demand which meant they would never, ever run out of a design. Because they didn't have to store a warehouse full of bolts of fabric, that may or may not sell, they wanted me to design every print in three sizes and in many, many colorways! They encouraged me to take risks. Not only that, but they print on wider fabric and use the margins for free patterns and designer information. WHAT?!?! So awesome! (check out their "Understand Our Product" tab for even more information)
Can you guess how fast I said, "Yes!"
Nope. Even faster.
So, when I realized I'd forgotten the pencil pouch, my stash of fabric I'd designed was a life saver. Plus, my daughter is in love with anything I make her especially if I also use fabric I've designed. Win/win!
I decided I'd use Burst in Sweet in the Medium size from my Personality line and Sea Party in Bright in medium and small sizes. FUN!
Because it was so last minute I had to use what I already had at home.
1 or 2 fat quarters
(I choose two…well really three because of the two different sizes of the Sea Party print… because I wanted the contrast, but this can be made with just one)
9 inch zipper
Iron on interfacing
vinyl bag
That's it!
The super cool thing about only being able to use what you already have in your home is you start to think really creatively. I saw this vinyl bag, which is a lot like the bags new bedding comes in. You know the ones. They are see through and have this great zipper and you are SURE you could use them for something cool, but you can never think of just the right thing? Yes, those ones. Well, now you have a really good excuse for keeping them! Hooray!
You'll want to cut off any seams the bag already has and the zipper.
Cut a 9 x8 in piece out of the vinyl. Then, from the piece you just cut, cut a 1.5 x 9 strip off the long side so you'll now have two pieces of vinyl. One that is 9 x 6.5 inches and the other that is 1.5 x 9.
Cut a 17 x 11 inch piece out of your back fabric
For the front pieces, this is where I used my contrasting fabric,
Cut two pieces 8.5 x 3 inches
and cut one piece 11 x 3 inches
Cut interface pieces with the same dimensions as all the fabric pieces.
You should end up with this.
The great thing about Modern Yardage fabric is it all comes PREWASHED!
No. I am not lying. So even though I wouldn't wash my fabric for this project, it was never even a thought in my mind because it came to me with that part done! You'll notice the different scale of the design on the blue fabric. One is small and the other is medium. SO fun to be able to mix and match different scales with the same design!
Iron the interfacing to the wrong side of your fabric. Follow the interfacing heating instructions.
Let it cool and peel off the paper. This is the part where I apologize that iron board cover, while cute, totally matches the fabric I chose. *blush* Let's still be friend okay?
Fold the back fabric piece wrong side together so the short ends match up. Hamburger fold not hot dog fold. Iron.
Fold the front pieces so the long sides match up, wrong sides together, the hot dog way, and iron.
So you'll end up with one back piece that is 8.5 x 11 inches.
and three front pieces one 11 x 1.5 and two 8.5 x 1.5
Set those aside.
Take the smallest vinyl piece and fold one of the long sides under 1/4 inch. Press it with your fingers as best you can. It won't stay, but it will put a little crease that will help when you are sewing.
With the front of the zipper facing up and your zipper foot on, zip the zipper open a bit and place the folded over side of the vinyl next to the zipper teeth. Keep the small fold under, not on top of the vinyl.
Sew as close to the teeth as you can. Pins and vinyl don't go well together so you have to go slow and refold and hold as you go. Then move over a 1/8 inch toward the outside edge and do a second row of stitching. It should look like this.
Take the larger piece of vinyl and fold 1/4 under on one of the long sides.
With the zipper right side up, complete the other side of the zipper the same way you did the first side.
Take one of the short front fabric pieces and with the folded side toward the middle of the pouch, and the open end on the outside, overlap the long side of the side of the fabric piece 1/4 inch over the short end of the vinyl/zipper piece. Match the short fabric end with the top of the vinyl.
I put my fabric piece under my vinyl/zipper piece so I could make sure I was sewing on the vinyl. Sewing as close to the folded edge of the fabric piece sew the two pieces together. Scoot the needle over 1/8 inch toward the outside of the pouch and sew another row of stitches.
When you flip it over it should look like this on the front
Repeat for the other side with the other short fabric piece. Make sure the folded side of the fabric piece is toward the center of the pouch.Trim the bottom of the fabric pieces to match the bottom of the vinyl.
Take the long front piece and place at bottom of the pouch with the folded side toward the center of the pouch.
Sew in the same way as the side pieces matching one of the ends with one of the edges of a side piece.
After it is sewn on, trim the other end of the bottom piece to match the edge of the other side piece.
Yippie! You've just finished your top piece!!
Take your back piece and place the folded edge on the top. Take your completed top piece and place it right side down on top of your back piece with the small vinyl piece matching with the folded edge of the back piece. Pin along the sides and bottom. Do not put any pins through the vinyl.
MAKE SURE YOUR ZIPPER IS ALL THE WAY OPEN
Sewing a 1/4 inch seam, start in the middle on the bottom edge and sew completely around the pouch.
Clip the corners without cutting any stitching.
Turn the pouch right side out through the zipper. This takes a some time. Just go slow and use something pointy to pop those corners out. I used a small crochet hook and it worked wonders!
If you want, once it's turned right side out you can iron, on the back side, just the very edges of the pouch avoiding heating any of the vinyl. DO NOT iron more than 3 seconds on the top edge, even from the back.
And you are done!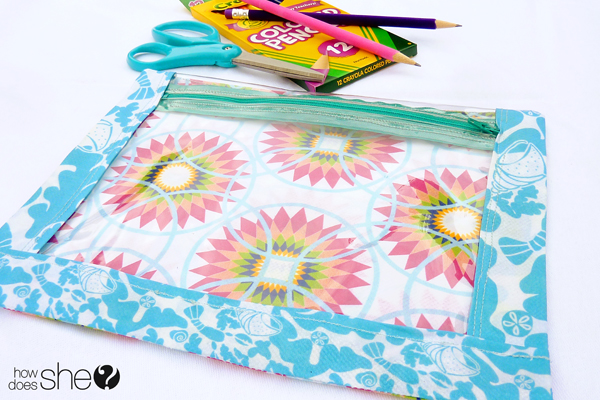 Look it fits ALL this stuff! The stuff I actually did remember to buy before school. Go me!
I hope you have fun sewing these up! Don't forget to stop by the "Meet the Designers" page on Modern Yardage to find my website and come say hi to me on my Facebook page. I LOVE new friends!
Guess what?!?!?
I'm so excited to let you know that Modern Yardage has agreed to help you get your own pencil pouches started by giving TWO lucky people the chance to choose $50 worth of Modern Yardage fabric! That's $100 in prizes.YAY!
To enter, leave a comment about why you sew, or want to learn to sew, or are so glad other people like to sew ;). Then keep your fingers and toes crossed that you are the winner and start dreaming about which fabrics you'll choose. Happy sewing!
============================================================================================================================
Disclosure: This post may contain affiliate links. This means, we may receive a small commission if you choose to purchase something from a link we post (including links to amazon.com because we are a participant in the Amazon Services LLC Associates Program. Don't worry, it won't cost you anything. This small percentage just helps us keep the power on and the Diet Coke stocked. We appreciate your support!