1
2
3
4
5
6
7
8
9
10
11
12
13-22
23
24
25
It's a well known fact that getting organized can help you be more efficient. Where do you need that the most? For me the kitchen is a a place where I could always use more organizing tips, how about you? I've rounded up some great tips that should help us all get started (or keep going) on the right foot! Enjoy!
1. Need an easy and adorable way to keep track of your menus? This easy DIY menu planner is fantastic.
2. Is your tin foil and plastic wrap taking up too much space in your drawers? Here's a perfect storage solution.
3. Do your storage containers spill out overtime you open your cupboard door? Click here for a great tip.
4. Have lots of small packets that take up too much space? Try an over the door shoe holder.
5. Round up your clutter with baskets on the wall. Great use of space!
6. If you're feeling ambitious, try making one of these organizer paper towel holders. Looks great!
7. Another great tutorial, this canned food dispenser looks super helpful!
8. Sometimes our electronics tend to pile up in the kitchen. This "bread box" charging station is a gorgeous solution!
9. Clear the fridge clutter with this hidden kitchen organizer. I love how adorable this looks!
10. Organize your pantry staples with pretty jars. Looks great on the counter tops!
11. Does your pantry need a makeover? Great tips here!
12. How many times a day do you dig in your drawers for a measuring spoon? This tip will take care of that for you!
13 – 22. How's your Fridge looking lately? Check out this post for 10 great steps to getting it organized!
23. How about your canned food storage? Here's a great solution and tutorial for storing all your extra stuff.
24. Maybe it's a lack of cupboard space? This door turns out to be super handy for keeping things organized!
25. Turn those wire shelves on their side and keep those pans organized.
Happy Organizing!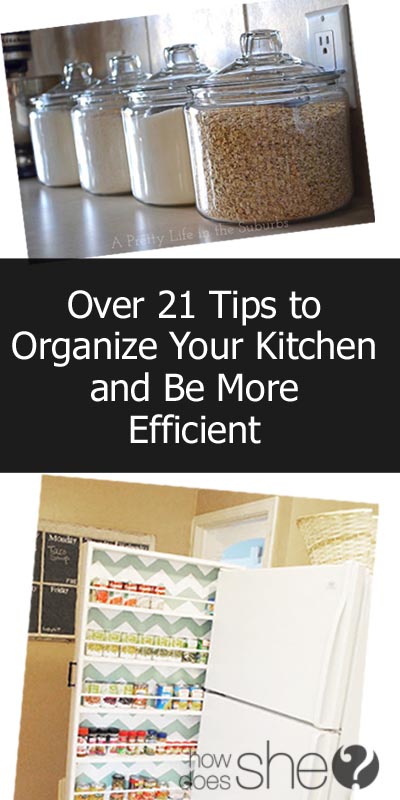 Disclosure: This post may contain affiliate links. This means, we may receive a small commission if you choose to purchase something from a link we post (including links to amazon.com because we are a participant in the Amazon Services LLC Associates Program. Don't worry, it won't cost you anything. This small percentage just helps us keep the power on and the Diet Coke stocked. We appreciate your support!