"Save the Earth! It's the only one with chocolate!" — Unknown
Okay, there can be no better reason to practice the three "Rs" and if you can make something cute at the same time? BONUS! We love reusing and recycling around here, and apparently – so do you! IShare has been receiving a lot of fabulous and adorable repurposing crafts and home decor ideas, so I'm going to make your day and share just a few. I know you have some great ideas, too, so don't forget to submit YOUR ideas to the Ishare sites:
Have you been completely inspired by all of the amazing chalkboard paint projects around? Why not make your OWN chalkboard paint (in your favorite color, I might add) like this one from AdelynSTONE and add some 'doodle' to your decor right now! Re-purpose any old piece of furniture for some serious "wow" factor.
DIY Chalkboard Paint
Have a bunch of old books lying around? Need a little more storage? Try some of the fun ideas shared by Soap Deli like this wooden box with old book spines glued on for some sneaky bookshelf storage! Love!
Recycled Book Ideas
I know you've got an old picture frame lying around and taking up space. Why not give it a NEW job holding your keys? Add some crackle paint, some vinyl and some hooks and soon you'll have an adorable (and totally useful) bit of home decor like this one shared by Ginger at "Literally Inspired"!
DIY Key Hooks
If you are a true nature lover, you will be excited about this one. Re-purpose some bits of nature (only the already-fallen-off parts!) into some cute jewelry! Find out how Mrs. Greene made this adorable one!
Acorn Necklace
Have you seen those inexpensive (okay – $1) cutting mats from the dollar store? Why not re-purpose them into some fun outdoor placemats like these submitted by Madigan made? Use a craft cutter (or your own hot little  hands) and some decoupage medium to customize them to fit YOUR decor! Gotta do this 🙂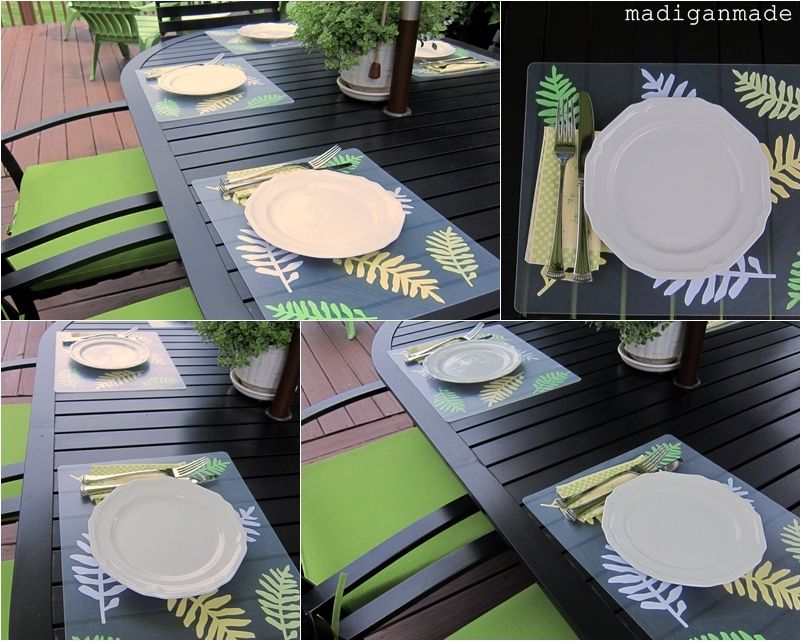 Cutting Mats into Place Mats
It's summer and sunhats and flip flops are out in force! Adding some colorful fabric scraps (from some old bandanas, for example) can breathe new life into your old duds! The Creative Goddess gives us a how-to so we can do this today!
Bandanas By the Pool
Chances are, you eat some canned food. Please tell me you eat SOME canned food! Okay, DON'T throw out those cans! Distress them, give them the vintage "touch" like these amazing cans from "Homework" and you'll be excited to start displaying them in your home! Who knew you could fake the "rust" look?
DIY Faux "Rust" Cans
What is your favorite way to re-purpose? I LOVED reading all of your amazing "Save This Summer" ideas, I have a feeling you have even more to share 🙂 I'm excited to hear from you! Until then – happy crafting!!