Okay, so we are almost two weeks into January and I am still calendar-less. Really. Pathetic much? Yep. I got right to work searching my favorite go-to place for all things FREE…I Share Printables! I found some fabulous (oh, and FREE) calendars and even some great printable lists and planners that caught my eye. Of course, I couldn't wait to share (after all, that is what I Share is all about, right?) so here are 5 printable calendars, and 5 printable planners and lists that I love!
1. Seaside Creative designed this fresh and fun 2012 calendar complete with uplifting quotes. We all need that, right?
Inspirational Quote Calendar
2.How about a calendar you can edit? This is a super cute one from "Five 'O' Five" that you'll love to customize. Getting more organized already!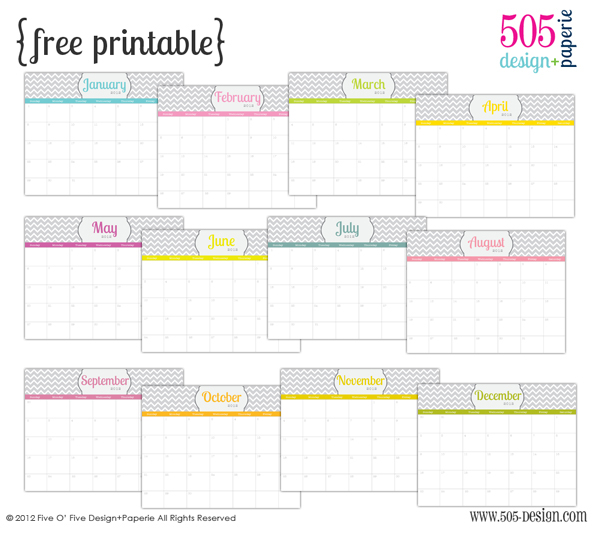 505 Customizable 2012 Calendar
3. If you are looking for a calendar that will fit in your purse, or just single sheet calendar to frame or have on your work desk, Your Life Events has your covered! They have created several different styles to choose from.
Single Sheet 2012 Printable calendar
4. Monika Wright has not only created some ADORABLE little calendars, but shows us some totally cute ways to display them. I have that white frame from Ikea, and now I know what I want to use it for!
Calendar Cuties
5. Creative Mama shares these absolutely ADORABLE Kokeshi Doll Mini Calendars. Another fun calendar to keep in your purse!
2012 Kokeshi Doll Calendar
Oh, and she also created some matching recipe cards!
And now how about some planners to take the work out of getting organized? I love printable lists and planners. Yeah, I'm cool like that. Here are just five that caught my eye!
6.Get it Together, Already! (love that name) created a planner to get your home organized and clean! We can do it!!
Get it Together Already Organizer/Cleaning Schedule
7. This is a cleaning schedule that I use for my own cleaning. It has really helped me keep up with the chores. I have it laminated and on the fridge so I can check things off when I do them (with a dry erase marker). LOVE!
Kamley Lane Cleaning Printable
8. If you want a cute set of planners and organization printables for the kids, these ones from Creative Mama are perfect. She has calendars, chore charts, lists, and even reward cards that all coordinate!
Printable Organization Kit for Kids
9. Becky from Infarrantly Creative not only designed a printable (and thorough) grocery list, she shares how to create a tear-off pad with it! This would really make the grocery shopping loads easier and maybe even prevent too many impulse purchases (yeah….right).
Grocery List Tear-Off Pad
10. Are you a blogger? Sometimes it's hard to keep  your schedule organized, or even your ideas! I love this printable blog planner from "Oh, The Lovely Things" (another great name!). No more sitting around trying to figure out what to write or when to write it. Problem solved!
Weekly Blog Planner
And JUST because I like you so much, I have to tell you about two fun iPhone apps that have been keeping me totally organized (at least, as organized as *I* can get).
1. Awesome Note
I use this app to make any and all "to-do" lists, from cleaning, to grocery shopping, to gift ideas, to my December Daily activities. Whatever! I love that you have the option of not deleting your crossed off to-dos so you can simply re-add the ones you do weekly or even daily. You can have reminders sent and other cool features. Worth checking out!
2. Calorie Counter by MyNetDiary
I love this app!! Not only can I easily keep track of what I'm eating, or how I'm exercising..I can even scan bar codes to get all of the nutritional info and create my own recipes for easy logging! It has it all. Love it!
Time to get ALL organized and ALL for FREE! That is the best way to start, right? Thanks for everyone who submits to I Share..we love gleaning from your wisdom 😉 Oh, and we like free stuff, too. Visit I Share Printables for even more printable organizers, calendars, and planners…and the other I Share sites for even more inspiration.
Happy planning!